WHY A COFFEE SUBSCRIPTION IS THE WAY TO GO
Never miss a day of Peak State when you subscribe to a monthly coffee subscription plan. Choose your favorite roast or Mix It Up to try them all. You can also choose the amount of coffee you receive every month. Get two bags, three bags, or four, depending on the amount of coffee drinkers you're ordering for, in your household, or perfect for at the office.

Your coffee bags will arrive on your doorstep reliably each month so you won't have to wonder about when they're coming or worry about running out of beans. They'll come to you fresh, sealed, and ready for you to brew. Pick your favorite roast and sign up now to get fresh coffee every month. Stop thinking about picking up coffee at the grocery store because we'll make sure you have exactly what you need, whenever you need it.

Our coffee delivery program is the best way to make sure you have your functional coffee when you need it. Our deliveries arrive on time, every time, and save you on shipping, so you won't have to feel anxious or question whether your coffee will be there for you. Sign up or try a free sample today!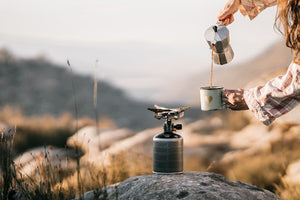 DECAF SUBSCRIPTION IS ALSO AVAILABLE!
Do you love the idea of functional coffee but you don't do caffeine? No worries! We offer decaf subscriptions, too! Our CALM DESCENT Decaf will work for you, just choose a decaf option before you check out. We'll make sure you get a cleanly decaffeinated, full bodied decaf coffee without the caffeine, and with all of the amazing benefits of nutrient-dense, organic functional mushrooms. Skip the pills, clumpy powders, or dusty products, and just drink coffee! Don't feel left out of the coffee subscription game. Contact us at Peak State Coffee today to sign up for your decaf coffee subscription. Reap all of the benefits of our coffee with none of the jitters when you start your subscription now!
WHAT DO YOU GET? LET'S BREAK IT DOWN
Not sure how your coffee subscription will work? Here's what you need to know...

1. Start by choosing the roast you want. If you haven't tried our coffee before, choose a sample instead. Your sample will arrive quickly and allow you to taste our coffee and see if the benefits it offers will work for you. If you love it, do nothing and your subscription will start automatically. If you don't love it or you want to try another one, let us know and we'll hook you up. When you choose your subscription, you'll pick the type of coffee you want and the number of bags you want to receive each month. You can also choose to mix it up and receive one bag of each roast every month. Check out and wait.
2. Before you know it, your coffee will be on your doorstep.
3. Drink up! As long as you keep your subscription current, your coffee will arrive each month and all you'll have to do is enjoy it.

If you ever want to change your subscription, just log on and make the changes or send us an email. We'll get your subscription the way you want it so it will work for you.
WANT TO MIX IT UP? TRY THE TRIO
Why get just one of our coffees each month when you can get all three? If you can't decide which one you want or you find yourself wanting different types of coffee on different days, choose our Mix it Up subscription. You'll get one bag each of:

IMMUNITY BOOST - This medium roast coffee features 500 mg of mushroom extract in every serving to help you stay healthy and keep you feeling your best.

BRAIN SUSTAIN - Our light roast coffee contains 500 mg of mushroom extracts in every serving. Lion's Mane for your brain and Cordyceps for energy support to keep you focused and going, no matter what is going on around you.

STRESS LESS - A dark roast coffee with carefully selected mushrooms designed to balance the jitters and offer low acidity for your gut. 500 mg of mushroom extract per serving will help you stay calm all day long.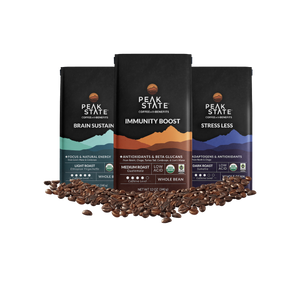 Peak State Trio - Mix It Up!
1 x 12 oz bag of BRAIN SUSTAIN
1 x 12 oz. bag of IMMUNITY BOOST
1 x 12 oz bag of STRESS LESS

All delivered monthly with INFINITELY FREE SHIPPING
FREE COFFEE SUBSCRIPTION TRIAL - WHY NOT?
You don't have to take our word on how great our coffee is. Instead, try it for yourself! Get a free sample of one of our coffees on us. All you need to do is choose the coffee you want to order. Fill out the relevant information to complete the order, then wait just a few days until your coffee arrives. You'll get plenty of coffee to try it a few times and decide if it is the right one for you. If you love the coffee and want to start your subscription, you won't have to do anything! We will automatically start sending your coffee subscription after two weeks (but we'll send an email first, so it doesn't come as a surprise!).

If you don't like the coffee or you'd like to try another one before you make your final selection, just let us know before that two weeks is up. We can hook you up with another sample so you can decide which one you like best. Our goal with these samples is to get you the best coffee for your needs and your life. We'll work with you so you can get the perfect brew for you.