Beans with a boost for your brain & body

Rethink your relationship
with coffee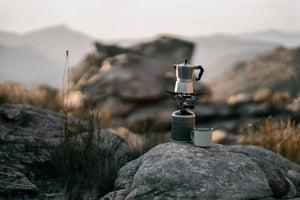 Enjoy a brew that loves you & the planet back
Dump what clumps, break with stomach aches, & enjoy a delicious high quality, & sustainable coffee with powerful ingredients from nature.
START YOUR DAY
IN YOUR PEAK STATE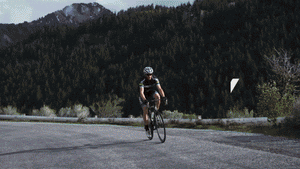 The world's First Whole bean mushroom coffee (500 mg/cup)
Coffee Without Compromise - Don't sacrifice great taste thanks to the world's first whole bean coffee with wellness benefits from adaptogens. Enjoy a fresh, quality cup, all thanks to our patentable infusion process.
Brain Function, Immunity Support, & Stress-Balance - Power up with lion's mane, cordyceps, chaga, and more in your morning cup. Always full spectrum, US-grown mushrooms, extracted and infused with 500mg. percup.
Low Acid & Feel Good - Sustainably grown coffee means you can love a coffee that loves you & the planet back. Enjoy less acidity on your stomach, more focus, & boosted health, all while supporting environmental regeneration.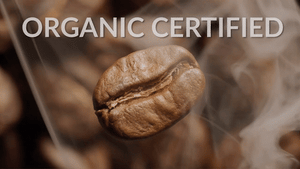 Coffee With Benefits®
Peak State is delicious coffee with health benefits from untapped adaptogens that doesn't compromise on taste or quality. Peak State is the world's first whole bean coffee with functional mushrooms, extracted & infused using our patentable Peak State Infusion Process™ (and third party lab verified for nutrient efficacy). Taste only coffee while treating yourself to adaptogens, antioxidants, and beta glucans to boost your morning. Cordyceps, lion's mane, and chaga benefits, made easy, without changing the taste.
Medicinal mushrooms have been consumed for thousands of years in herbal medicine, and studies reveal their untapped nutritional potential for daily wellness and performance. Peak State offers some of the best coffee from around the world infused with organic extracts of lion's mane, chaga, reishi, cordyceps, and turkey tail. Our organic, full-spectrum mushrooms are regeneratively grown in the US and our coffee is fair trade, organic, single-origin coffee, shade grown to be less acidic with added adaptogens to balance the jitters so you can feel your best and function at your highest level.
Approved by coffee lovers, Peak State is a mushroom coffee for the coffee drinker! Whether you're looking to buy a single bag of our gourmet coffee to get these benefits into your routine, or if you want to sign up for an organic coffee subscription, we got it all. Find your Peak State today!
THE DiFference is
IN THE BEANS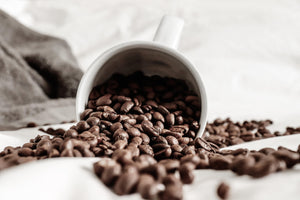 LESS ACIDIC

Shade Grown Coffee
Many people ask, is mushroom coffee less acidic? The short answer is, Peak State is. Our shade grown coffee beans are stomach friendly, not only because of the gut friendly goods we add, but origin, growing, and roasting all play a role in making our beans less acidic. How do we know they are? We pH tested them! As a bonus, shade grown coffee is the only truly sustainable coffee, as the conventional coffee industry is plowing down the rainforest. By buying Peak State, you're changing that, one regeneratively farmed bag of coffee at a time.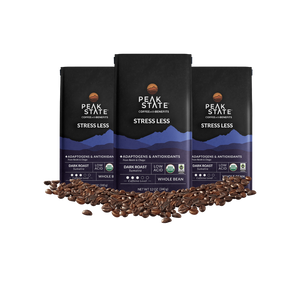 Real Good
FEEL GOOD

Benefits
How can you make coffee less jittery? Adaptogens, that's how. Functional mushrooms infused into high quality, shade grown dark roast coffee help you power up but stay grounded. Ditch the coffee-induced anxiety and sleep issues, and leave the jitters for the dance floor! Enjoy a more balanced morning brew, while keeping the fresh coffee you dream of. Don't believe us? See for yourself or your money back with our Jitter Free Guarantee!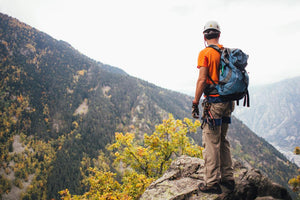 STOKE-POWERED &
SUSTAINABLY-MINDED
We love the outdoors and are using business to save it. Peak State sources only sustainably shade grown coffee in the pursuit of regenerative organic farming only. The coffee industry is plowing down the rainforest. But we love coffee, so we're making the morning coffee routine more environmentally sustainable and better for your health. We do this is by bringing our Coffee with Benefits to the masses. Peak State is a For Planet company, from our regenerative organic supply chain to our earth-friendly packaging to pledging a 1% of sales to protect wild places. Let's bring our planet back to its Peak State, all while helping you perform in yours!
The Benefits of Ice Baths – What Is Cold Water Therapy?
Ice baths have grown in popularity over the last few years, with pioneers like Wim Hof spreading the benefits of cold water immersion. But how does cold water therapy actually affect your body, and what does research say about risks and benefits? Let's find out.