Boost your Brew without Compromise
Peak State is the world's first whole bean adaptogen coffee. Enjoy added focus, energy, and immunity in a smooth sipping brew that doesn't compromise on taste or the planet!
Our Values
Use Business for the Planet: Reimagine what we do constantly in service to doing environmental good.

Communicate with Radical Transparency: Be honest with ourselves, each other, and our customers.

Take Inspiration from Nature: Look to nature, spend time in it, enjoy it, learn from it.

Be Stoked: Share our love for the outdoors and coffee (and create products to help others do the same).

Lead as Stewards:  Be active stewards of the environment with the business and ourselves.

Motivate & Inspire: Support those doing difficult things with encouragement and high quality coffee!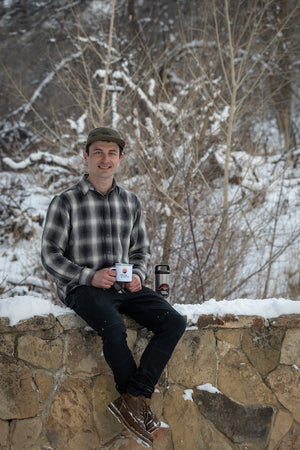 Our Story
Danny Walsh, founder of Peak State, struggled with health issues that were made worse by stress, so he went to nature to heal. During this time, he learned to forage wild chaga and brew it as an immunity tea and slowly healed himself. He couldn't stop thinking about how good it made him feel - soothed, relaxed, calm. He set out to share these untapped benefits with all via his favorite drink - coffee.
Dissatisfied with what was out there for "mushroom coffees", he didn't want to compromise on taste, health, or the planet. With his friend Carl, they developed Peak State's whole bean coffee infusion process. Soon after, Peak State was born with a mission to share our Coffee with Benefits with all. Today, Peak State's is the world's first whole bean coffee with adaptogenic mushrooms, infused for daily wellness so that you can start your day in your Peak State. Keeping origins in mind, Peak State sources the most sustainable coffee possible, all organic ingredients, and donates 1% of all sales back to environmental conservation.
"IT ISN'T ENOUGH TO HAVE JUST A FEW RIGHTEOUS PEOPLE TALKING ABOUT PRESERVING WILD PLACES. WE NEED A LOT OF THEM." - IRA SPRING
Our Vision
We exist to share great coffee, boost health, and to use use business as force for environmental good.

Our Infusion Process
1. We source highest quality, fair trade, organic, & sustainably shade grown coffee beans for low acidity and environmental sustainability.

2. Our beans are roasted and infused with organic extracts of full spectrum adaptogenic functional mushrooms from the US, for a daily dose of 500mg/cup (beta glucan tested).

3. We then pack our infused beans into our freshness-maximizing coffee bags and ship them to your door.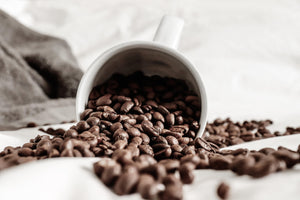 THE DIFFERENCE IS IN THE BEANS!
COFFEE WITHOUT COMPROMISE
Our patent pending whole bean infusion process allows for maximum freshness. Bring a boost of nutrients to your morning routine without compromising on taste. You shouldn't have to choose.
TRUE NUTRIENT EFFICACY
Our clean, ethically-sourced, and sustainable coffee is infused with organic extracts of chaga, reishi, lion's mane, cordyceps, and turkey tail (always from North America) and third party tested so you're getting your daily dose in every cup.
REAL ENVIRONMENTAL SUSTAINABILITY
From regenerative farming to eco-friendly packaging options to contributing 1% to environmental conservation, we are a "For Planet company" to our core, using business as a force for environmental good.
Don't compromise on Coffee, health, or the planet!